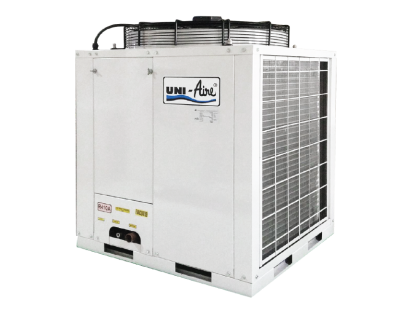 TACU (Scroll)
Commercial
/Commercial Condensing Unit
Air-cooled condensing unit
Scroll compressor
R-410a refrigerant
Cooling capacity 80,000 to 150,000 BTU/H
---
Green guard coated on Condenser coils
Corrosion prevention caused by ocean vapor and chemicals which extends coil life span.
---
Copper fin condenser coil
Fin made from copper, extends life span of condenser coil. Suitable for seaside area and high acidic factory environment.
*Consulting Uni-Aire's sales engineer for possibility for each location is recommended.
---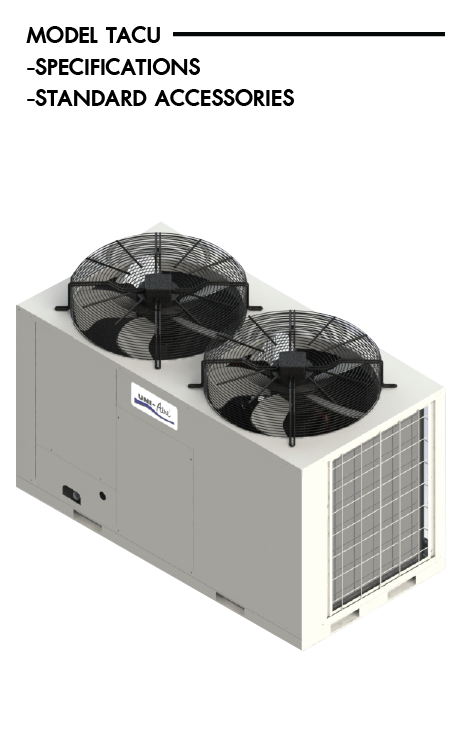 SPECIFICATIONS
UNIT CASING
• Constructed of zinc-coated heavy-gauge,Galvanized steel
• Powder coated for protection against rust

COMPRESSOR
• Hermetic scroll compressor
• Compressor mounted on vibration isolators

AIR COOLED CONDENSER
• Seamless copper tubes, mechanically expanded into aluminum fins with full height collars
• Leak tested at 600 PSIG from factory
• Dynamically and statically balanced, direct-drive fan

REFRIGERATION PARTS
• Service valves for suction line and liquid line
ELECTRICAL PARTS 
• Magnetic contactor for fan motor
• Magnetic contactor for compressor
• High-Low pressure switches