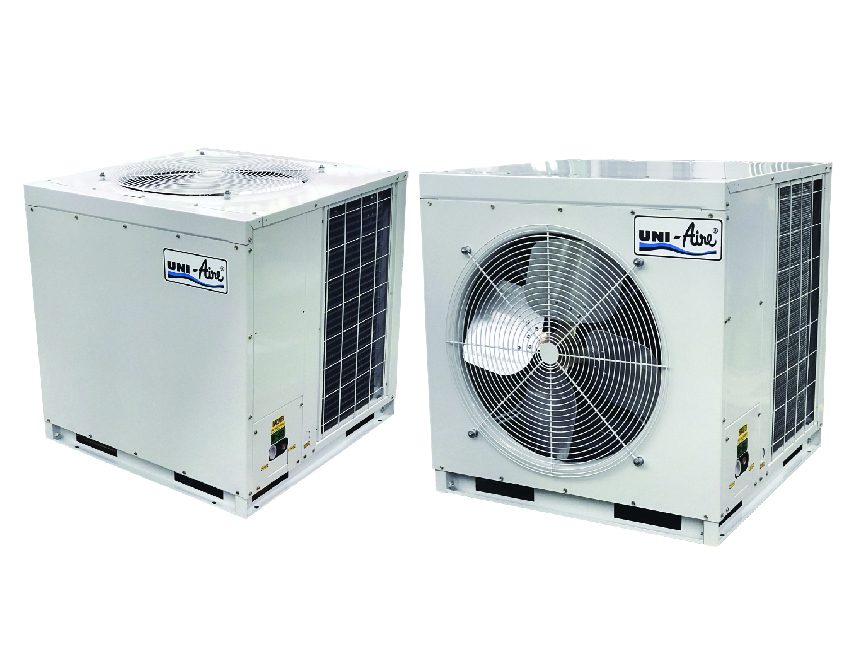 CACU (Scroll)
Commercial
/Commercial Condensing Unit
Air-cooled condensing unit
Flexible air discharge configuration-Vertically or Horizontally
Scroll compressor
R-410a refrigerant
Cooling capacity 80,000-150,000 BTU/H
6.7 - 12.5 TR
23.4 - 44.0 kW
---
FEATURES
• Compact size and easy installation
• Flexible air discharge configuration
• Vertically(Standard) or Horizontally(On-side swopped)
• High efficiency hermetic scroll compressor
• Direct drive  condenser fan
• High and low pressure switches for protection standard on all units
• R-410A(Standard), R-407c (Option) or R-22 (Option) refrigerant

SPECIFICATIONS
UNIT CASING
• Flexible air discharge configuration - Vertical (Standard) or Horizontal
• Constructed of zinc-coated heavy-gauge, Galvanized steel.
• Powder coated for protection against rust.

COMPRESSOR
• Hermetic scroll compressor.
• All compressor are mounted on vibration isolators.
AIR COOLED CONDENSER
• Seamless copper tubes, mechanically expanded into aluminum fins with full  height collars.
• Leak tested at 600 psig from factory.
• Dynamically and statically balanced, direct-drive fan
STANDARD ACCESSORIES
REFRIGERATION PARTS
• Ball valves for suction line and liquid line
ELECTRICAL PARTS 
• Magnetic contactor for fan motor.
• Magnetic contactor for compressor.
• High-Low pressure switches