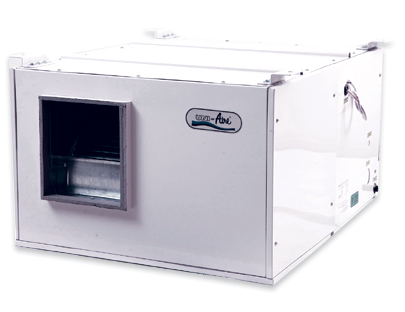 AHE/H
Commercial
/Air Handing Unit
Ducted type (AHU)
Cooling capacity 30,000 - 60,000 BTU/H

---
---
FEATURES
Casing : A sturdy, eletro-zinc coated steels shet cabinet is provided in modern SLIM design. All members of the cabinet are die formed that assures a good dimensional and quality control. Cabinet are finished in HARMONY BEIGE color of ELECTROSTATIC POWER painting process that provides a double protection against rust.
Condensate Removal
 All standard Cooling Coils are condtructed of Aluminum plate fin, mounted on copper tubes which are mechanically bonded for maximum effciency of heat transfer.
Cooling Coil : Drip pan with water repellent type Insulation to insure positive removal of all condensation and prevent condensation on the underside of the drip pan.
---
Model AFQ
Casing made from high-quality sheet metal,coated with anti-oxidation white color. Durable with great heat rejection performance from advanced aerodynamic fan design.Compact size for easy installation in small spaces.
Model AKQ
Casing made from fiberglass, corrosion free.Suitable for durable use especially for seaside or acidic environment. Optional Copper fin and green guard coated fin are available.