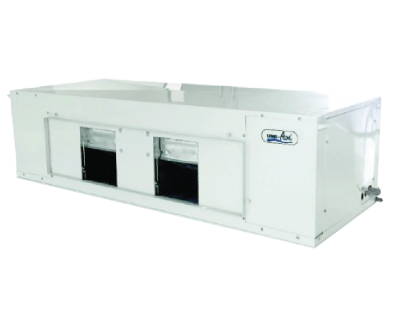 FHDC/TACU
Commercial
/Air Handing Unit
Ducted type (AHU)
Cooling capacity 80,000–150,000 BTU/H
---
Easy to maintanance.
• Casing opens from left, right, and bottom of the unit
• Drain pan,blower set, and evaporator coill easily pulled out from bottom to maintenance
Modern SLIM design with low unit height
• 470 mm for model 70-90
• 575 mm for model 100-120
• 630 mm for model 150
150 Pa External static pressure with direct-drive motor ( 3-speed taped )
Durable construction • Supplied with air filters
---
DESCRIPTION
• The FHDC Ducted Fan Coil unit are suitable for ceiling mounted.
• Draw Thru type with Return Air Plenum.
• Direct Expansion
TECHNICAL SPECIFICATION
The unit with plenum is fabricated from electro - zinc coated steel sheet. The cabinet is finished in white powder coating for protection against rust. The exterior panels are insulated with 10 mm. thick Polyethylene Foam. The insulation is affixed to the casing with the water proof adhesive.
DX COIL AND HYDRONIC COIL


The coil consists of full face coil with counterflow circuits, seamless 3/8 inch OD staggered copper tubes mechanically bonded iinto aluminium fins with a maximum of 12 fins per inch. Ench coil is dereased internally and externally, brazed in nitrogen atmosphere, leak tested at 350 psig and completely dehydrated before assembly.
BLOWER
The blower is the double inlet, forward curved contrifugal type and statically and dynamically balanced.
MOTOR


3-Speed
FILTERS


Air filters are cleanable aluminuim type.
CONDENSASTION REMOVAL


Drip pan with water-repellent type insulation to ensure positive removal of all condensation and prevent condensation on the underside of the drip pan. The unit shall have double drain tray with separate drain connection
---
---
UNIT CASING
• Constructed of zinc-coated heavy-gauge, Galvanized steel
• Powder coated for protection against rust
---