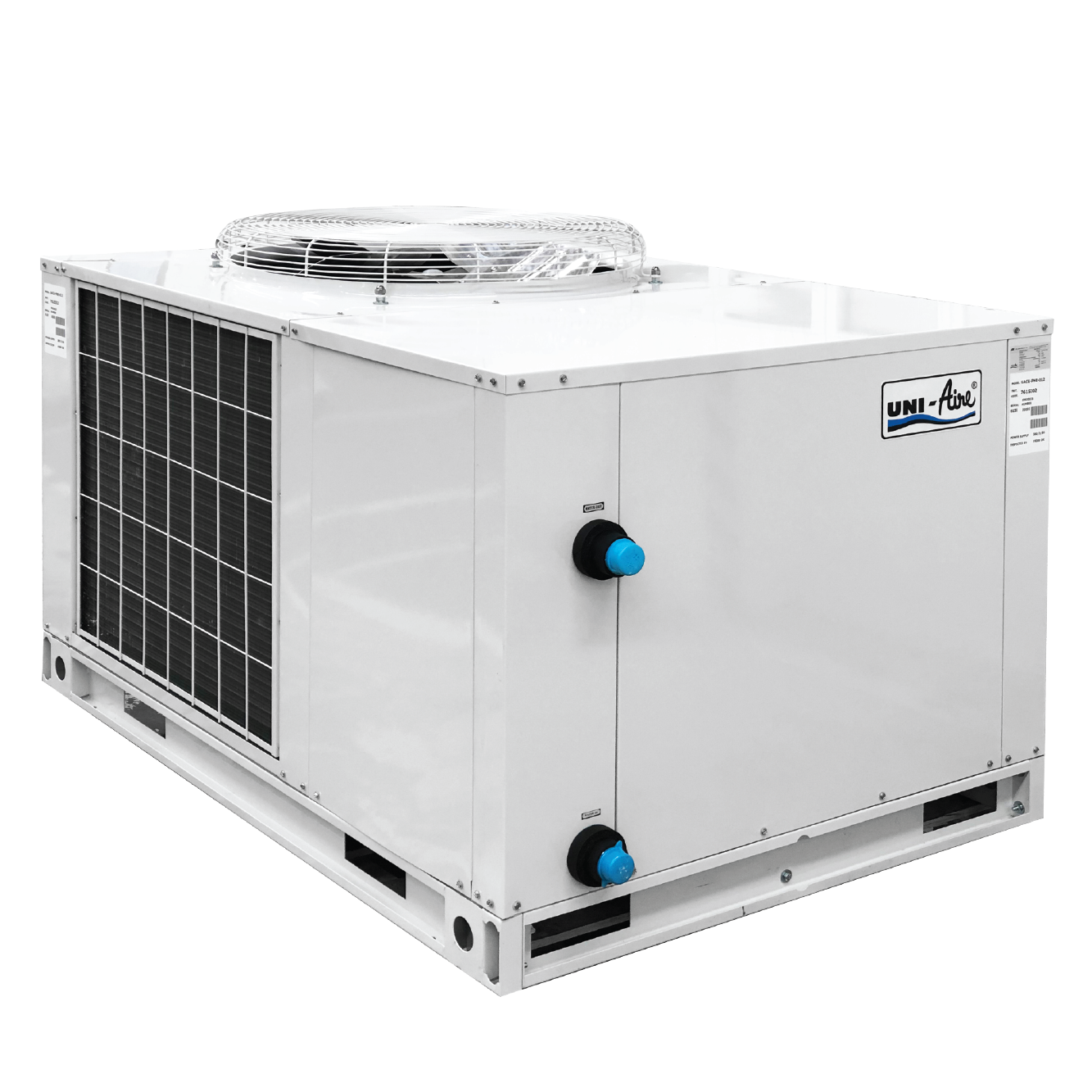 UACU-PHE (Scroll)
Commercial
/Air-cooled Chiller
Air-cooled chiller
Scroll compressor
R-22 refrigerant
5.83 -30.83 TR
20.51 - 108.44 kW
---
FEATURES
• COMPACT SIZE AND EASY INSTALLATION. 
• HIGH EFFICIENCY HERMETIC SCROLL COMPRESSOR.
• MICROPROCESSOR CONTROL
• EVAPORATOR USED PLATE HEAT EXCHANGER.
• FREEZE PROTECTION.
• HIGH AND LOW PRESSURE SWITCHES FOR PROTECTION OF VALUABLE EQUIPMENT AND STANDARD ON ALL UNITS.
• REFRIGERANT ARE R-407C OR R-410A (OPTION).
---
GUIDE SPECIFICATION
THE UACU-PHE IS A PACKAGE AIR COOLED CHILLER.
UNIT CASING
• CONSTRUCTED OF ZINC COATED HEAVY GAUGE, GALVANIZED STEEL.
• POWDER COATING FOR PROTECTION AGAINST RUST. 
COMPRESSOR
• HERMETIC SCROLL COMPRESSOR(S).
• ALL COMPRESSOR ARE MOUNTED ON VIBRATION ISOLATORS.
AIR COOLED CONDENSER
• SEAMLESS COPPER TUBES, MECHANI-CALLY EXPANDED INTO ALUMINUM FINS WITH FULL HEIGHT COLLAS.
• LEAK TESTED AT 350 PSIG FROM FACTORY.
• FAN SHALL BE DYNAMICALLY AND STATICALLY BALANCED, DIRECT DRIVE. 
EVAPORATOR
• INDEPENDENT REFRIGERANT CIRCUIT.
• BRAZED PLATE HEAT EXCHANGER.
• INSULATED WITH A CLOSED-CELL INSULATION.
CONTROL
• THE CHILLER SHALL BE COMPLETELY FACTORY-WIRED WITH NECESSARY SAFETY CONTROL.
• SAFETY CONTROL SHALL INCLUDE HIGH AND LOW PRESSURE SWITCHES WITH MANUAL RESET, COMPRESSOR TIMER DELAY, WATER TEMPERATURE ERROR SENSOR, AND DISPLAY FOR ERROR CODES
STANDARD ACCESSORIES
• REFRIGERATION PARTS
• THERMOSTATIC EXPANSION VALVES
• SIGHT GLASSES
• FILTER DRIERS
• CHECK VALVES FOR PARALLEL CIRCUIT COMPRESSORS 

ELECTRICAL PARTS
• MAGNETIC CONTACTOR W/OVERLOAD FOR FAN MOTOR
• MAGNETIC CONTACTOR W/OVERLOAD FOR COMPRESSOR
• HIGH-LOW PRESSURE SWITCHS
• MICROPROCESSOR CONTROL (PLC)
• DISPLAY TEMP CONTROL
• TIMER DELAY RELAY DEVICES (ON BOARD)
• TEMPERATURE CONTROL DEVICE (ON BOARD)
• FREEZESTAT (ON BOARD)
---